In last week's webinar we did a deep dive into what Customer Validation (CV) is and how you can leverage this important phase of product development. For those that weren't able to join us, here are a few of the key takeaways on Customer Validation and what it can bring to your product development lifecycle.
What is Customer Validation?
At a high level, Customer Validation refers to customers testing real, unreleased products in real environments. This research discipline allows you to collect representative customer feedback to produce and release more successful products.
After years of experiencing fragmentation in how tech companies run these tests, Centercode has developed a specific set of proven research and testing methodologies for running Alpha, Beta, and Field Tests. These processes allow companies to capture unique, actionable insights about the customer experience from target users in their true environments throughout the product's development.
Why Should My Company Invest in CV?
The tech landscape is evolving faster than ever, and this is impacting tech products in a few key ways.
Products have become far more complex/interconnected. No product lives in a silo anymore, so it's highly unlikely that your team will be able to thoroughly test your product in a lab. Products need to be tested in a variety of real environments to evaluate performance and interoperability.
The audience has changed. Until recently, tech products were mainly used by technical people. Now tech products are mainstream and have to cater to audiences that are much less technical. These users also have very high expectations surrounding the ease-of-use of products in their lives, making the customer experience more critical than ever.
Fewer channels increase launch risk. Companies are selling their products through fewer channels and poor reviews on a single channel (such as Amazon), can sink a product. Even if customers are buying through a different channel, they will frequently default to sites like Amazon to research a product and read reviews, so a few poor reviews can have a significant impact on sales.
Customer Validation sits at a critical juncture in the product lifecycle. It evaluates all of the different aspects of a product (quality, user experience, documentation, messaging) and gives you an opportunity to improve all of those facets prior to launch. As a result, the return on investment (ROI) of Customer Validation is immense. A relatively small investment in CV will pay for itself many times over by decreasing costs and increasing sales as you release a better product.
Who Does CV Apply to?
Effectively every product with a customer will benefit from Customer Validation. While CV is most visibly associated with cutting-edge, B2C products (such as smart home products and wearables), any product with an end user will benefit from getting validation from members of their market before launch. This means that Customer Validation is critical to all product types, including hardware, software, and services. It's also important for products with all types of audiences, such as consumer, business, and enterprise.
Where Does CV Live in My Company?
Customer Validation stretches across a few different departments, contributing to the company's quality, user experience, and market research efforts. As a result, there is no single department where companies consistently execute Customer Validation. More and more companies are dedicating a team specifically to Customer Validation, which allows the CV team to interact with and support the efforts of all the relevant stakeholders by providing meaningful feedback about the product.
When Does CV Take Place Within the Product Lifecycle?
Customer Validation occurs between development and release of the product. More specifically, Customer Validation begins once your quality assurance (QA) team has tested a product in their lab and ensured it's ready for customer hands. Then it's time to run an Alpha Test, followed by a Beta Test, and finally, a Field Test. These three tests provide holistic validation of the customer experience and prepare your product for release. A continuous post-release Customer Validation test evaluates changes and additions to the product, providing additional value as the product evolves.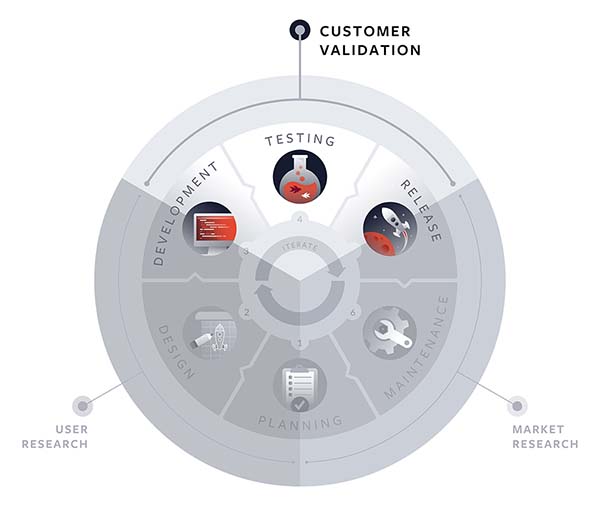 How Do You Run Customer Validation Tests?
Now that you understand the five W's of Customer Validation, you're probably itching to know how to run these tests as well. You can watch the full recording of our webinar to see how these tests are run at a high level (skip to the 27-minute mark to get straight to it). You can also sign up for our upcoming webinars on Alpha, Beta, and Field Testing, which will cover the specifics of running and leveraging these types of tests.